KALYMNOS, GREECE
Join me at this relaxing inspiring place - September 8 - 15, 2020. www.greekislandpaintingtrips.com
I had a wonderful week with some of the most interesting and enthusiastic guests in May this year.
The journey to Kalymnos is a wonderful transition from our busy lives to a peaceful, warm, clean and inspiring place.
After landing on Kos it is a short transition by taxi (share a cab - approx €15) to the port of Mastahari, where the frequent ferries(€7) bring you to Kalymnos, where you will be greeted by our British guides Liz and John (who have lived on the island for 13 years). We stay in a delightful family run hotel in Myrties on the west side of the island. (We can arrange to meet you at the airport for a small extra fee).
There is so much to inspire at this off-the-track of the traditional holiday destination.......it offers peaceful, quiet, inspiring scenes, from traditional style boats, quiet beaches and
blue seascapes, traditional Greek white and blue houses, and mountains. We visit a variety of places, enjoying many a
"
breath-taking" view, sample the delightful local food and meet lots of interesting people. You will stay in excellent comfortable accommodation with all rooms ensuite and with coffee/tea making equipment and a fridge (great to keep the g & t cold - but better to go next door to Nefeli for super cocktail)
My 30+ years as a full time artist and teacher has given me expertise in most media including, watercolours, pastels, oils, acrylics, inks, and all drawing media and equipment. I encourage experimentation with ways of colour control and the variety of effects you can produce. It is important to learn to visualise composition and colour - learning what to leave out and to 'let go'. I advocate spending at least 10 minutes just looking before starting on any project - this way you will absorb more.
For a creative holiday such as this I recommend water based media and paper or gessoed paper or cardboard and, of course, the all essential sketchbook. (Easels and boards are provided). Be prepared to make a lot of sketches and studies which can be done in pencil, pen and watercolours/pencils; and I encourage you to take loads of photos and go home full of inspiration. If you want to paint 'impressionistic style" I recommend Acrylic
'
open' paints, or the use of a medium which allows it to dry slower.
Join us for
a week (or two) on this island paradise - just painting and enjoying the company of like-minded people.....well maybe a bit of swimming, enjoying good cuisine and wine and the greek hospitality and history.
---


Price £999.00 Arrive at Kos Tuesday evening, Price includes:- accommodation with ensuite, 7 breakfast, 2 evening meals, 5-days tuition, transfers from Kos (or Kalymnos) airport to your accommodation in Myrties, and daily visits to places of interest :

Accompanying non-painting partners £700.00

Discount for painters sharing twin bedded rooms.

All rooms have tea/coffee making facilities and fridges, air-conditioning and balconies.

Not included : flights to Kos and lunches and 4 evening meals.



---

20/06/2019 Below are a few of the sketches I did on my last visit and a couple of the paintings completed - so far - More will be put up over time.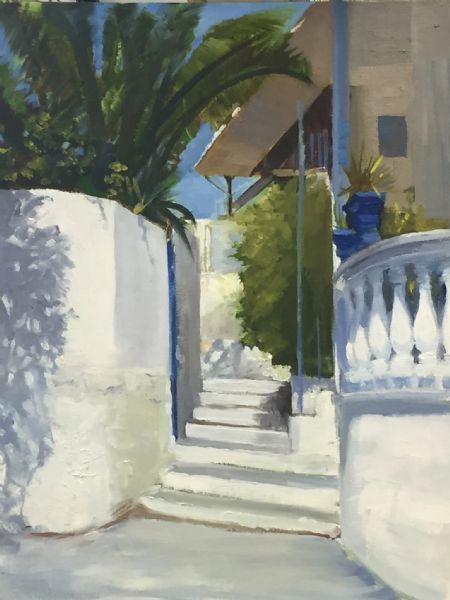 1
This is a sketch from which I worked to produce this oil on board - (SOLD)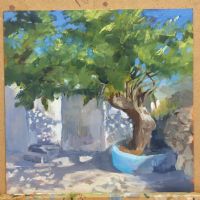 3. First day in Nefeli Hotel 4. On Telendos, back walkway.
The groupies: including hosts Liz (3rd from left) and John (4th). We are at St, Savias monestry above the port of Pothias.
---
You find them here, in the cafe, you find them there on the beach, you find artists everywhere!
"Thank you very much for all you did to make the holiday such a happy one. My daughter and I feel we learnt a lot.....thank you very much for all you did to make the holiday such a happy one." ......Gerry, Bucks.
Simply Degas, refreshing post-impressionism Podi Lawrence captures the exquisite in lush landscapes, in the story-telling of her portraiture, and in jazz-infused snapshots of life caught on canvas. her versatility in all mediums, a rarity; her spontaneity & passion with paint, a treasure.

"Our painting holiday in France seems a long time ago, I certainly had a good time and learned quite a bit.....and appreciated the hard work from yourself....." Wendy, Eltham
"I certainly enjoyed France very much indeed, and I gained a lot from your teaching for which I am very grateful...." Walter, Bromley